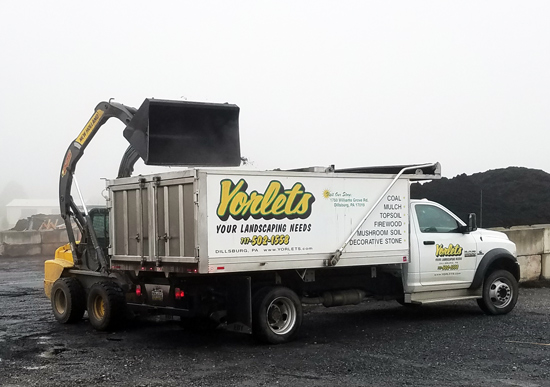 Stone Supplies
Beyond our soil and mulch options, we host an impressive selection of decorative stone supply products. Come to us for products that'll define your landscape or keep you comfortable during the cold Pennsylvania winters. Yorlets Farm and Garden, LLC will make sure you get what you need!
Decorative Stone Products
Stone is a tremendous addition to any landscape. We offer a broad range of options for every landscape application, making us the premier destination for decorative stone supply in Dillsburg, Franklintown, White Rock Acres, Grantham, and York County, PA. We price by the ton with certified scales and can coordinate delivery based on your proximity to our supply yard. Call for delivery pricing. We also offer $1.00 off per ton on stone and sand on orders of 9 tons or more.
White Sandstone: $44/ton
Dark River Stone:

3/8″: $69/ton
3/4: $67/ton
1-3″: $72/ton

Autumn Red Stone:

3/8″: $69/ton
3/4″: $67/ton
2″-4″: $70/ton

Tan Stone: $44/ton
Tan Stone Pea Gravel: $44/ton
Ocean Stone:

3/4″: $69/ton
1-2″: $72/ton

Limestone:
We Also Offer:
2-A modified: $32/ton
1-B stone: $39/ton
2-B stone: $34/ton
Stone Dust: $38/ton
Mason Sand: $41/ton
Construction Sand: $44/ton
Stock Up on Decorative Stone
For the best in decorative rock and anthracite coal, contact Yorlets Farm and Garden, LLC today at 717-502-1558. We'll help you get the decorative stone, and topsoil products you need, at a price you'll be more than willing to pay for them.
Get in Touch